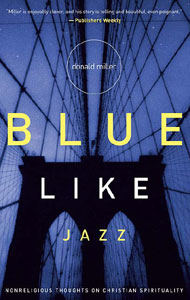 Here comes my first book review installment!  
I started reading Blue Like Jazz (BLJ) about a week ago after meeting a lady from Rolling Hills Community Church that recommended and then loaned it to me.  She prefaced the book by saying that it would help conservative Christians to love liberals more.  Well, that intrigued me because I am always interested in ways to get conservative Christians to love
anyone
 more.  Of course I lump myself in that group as well.  I decided I should definately read the book.  I'm glad I did.
The author is Donald Miller who is a thiry-something, unmarried, writer/speaker who lives in Portland.  He attends Imago Dei Church in Portland, which is known for being very progressive in it's outreach to our lost and broken world.  Donald doesn't mince words and he doesn't worry too much about political correctness within the Church.  He certainly doesn't come across as a very religious man, although the reader is left with no doubts about Miller's personal relationship to Christ.  His recollections are funny and touching.  I found myself relating a lot to him, as I imagine most Christians would also, if they are honest with themselves.  He uses the term "Christian spirituality" in place of Christianity with the premise that he cannot relate what the term 'Christianity' means anymore in todays world.  I'm not big on renaming things.  Seems kind of trendy, but his essays in the book are so
real
 and down-to-earth,  I was able to overlook the renaming thing.
He touches on a number of subjects ranging from love to tithing, politics to Jesus.  His spiritual journey begins within Christian fundamentalism.  He took some fair shots at fundamentalism without alltogether tearing it down.  Ultimately his journey takes him far....very far from his fundamentalist beginnings.  It is during his time at Reed College (known as one of the most intellectual, yet Godless institutions in the country), where the rubber starts to meet the road with regards to his faith in God.  While spending time in the midst of free-loving, pot smoking liberal geniuses, Miller begins to learn what following Christ is really all about.  Not that those free-loving, pot-smoking, liberal geniuses knew what following Christ was about, they definately did not.  Still, it was in their midst that he began to learn.   This was truely fascinating to read about.  It was eye-opening and convicting.  
Ultimately I have to heartily recommend this book.  For ultra-conservative believers, it is a
must
 read.  Some things are more important than being 'right' and what you will gain from this read is one of those things.   Miller deals with issues that are usually off-topic and taboo in the Church.  There shouldn't be anything we can't talk about in the Church.  We are
 children of the Most High God of the Universe!  We don't need to fear honest conversations...honest questions. 
 Believers have times of doubt.  We deal with crises of belief.  It happens.  God is still God, and if we know Him, we are still His child.  I am reminded of a blog I read recently where a pastor, that will remain unnamed, actually called into question whether or not Mother Theresa was really saved....because she had doubts.  She suffered from the crisis of belief at times.  He pretty much stated that this would not have been the case had she been a
true
 believer.  I had to swallow back the bile that was rising up in my throat upon reading such trash.  It isn't even because I am so sure that Mother Theresa is saved (though if I were a betting woman, I'd say she's probably resting securely in the arms of Jesus right now), it's because who was
he
, that pastor guy, to say she is or is NOT saved?  What is the point in even discussing something like that about a dead person!?  However, the real problem there was that that pastor, from his place of self-righteous condemnation, was just so un-
real
.  He was trying to say he has never doubted his faith....never struggled with the crisis of belief.  If that is true, I don't think he is probably a very good pastor.  
Get real.  There is stuff in this book that every believer would do well to read and ponder.  It's a quick read and can most likely be found in any library since it was a best-seller.  I don't know everything about this Donald Miller, but from the bit of research I've done on him, I think he's the real deal.  Does that mean I buy everything he's selling?  No, but I'm a thinking girl and he gave me a lot to think about.  I can appreciate that.
By His Grace,
Kara